Gundam one of the most famous Animes, also the anime I have grown up with and loved for many years.
The most recent Gundam currently is Mobile Suit Gundam 00.
It is still showing in America and the final 5 episodes will be shown in the next 3 weeks.
Background
Mobile Suit Gundam 00 (機動戦士ガンダム00 (ダブルオー), Kidō Senshi Gandamu Daburu Ō?) is the seventh incarnation of Sunrise's long-running Gundam franchise.[1]
It is directed by Seiji Mizushima and written by Yōsuke Kuroda, and features character designs by Yun Kōga. The twenty-five episode series was officially announced by Sunrise during a 15-second trailer on June 2, 2007.[1][2][3] The series aired on the Mainichi Broadcasting System and Tokyo Broadcasting System from October 5, 2007 to March 29, 2008. On July 13, 2008, a trailer announcing a second twenty-five episode series was aired.[4] The second series began on October 5, 2008 and concluded on March 29, 2009. A movie sequel is planned for the year 2010.[5]
Mobile Suit Gundam 00 is the first Gundam series to be animated in widescreen and in high-definition,[6] as well as the first to be set in the non-fictional Anno Domini era.
The series is set in a futuristic Earth and centered around Celestial Being, a private paramilitary force and their efforts to rid the world of war and conflict with a series of unique and highly effective mobile suits known as "Gundams".
Licensing for a North American release of Mobile Suit Gundam 00 was announced by Bandai Entertainment at New York Comic Con 2008 on April 18, 2008. Mobile Suit Gundam 00 is the first Gundam series to air on national television in the United States since Mobile Suit Gundam SEED and began airing on November 24, 2008 on SCI FI (now known as SyFy).[7][8] The first season concluded its first run on SCI FI on February 9, 2009. The second season is set to air on the same network and time slot starting June 29, 2009.
Gundam Meisters
Alleluia
Lock On Stratos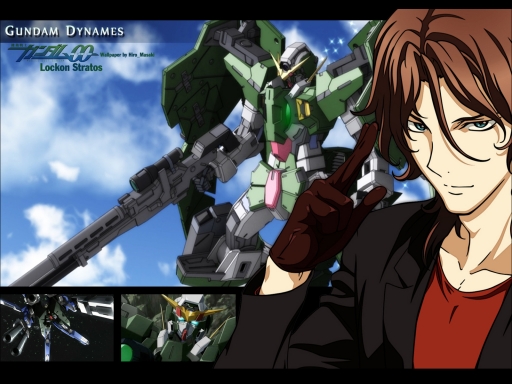 Setsuna F. Seiei
Tieria Erde
Tieria's Gundam
Tieria's Gundam has two forms Virtue, the heavy armored Artillery gundam, and Nadleeh fast extremely powerful mobile suit that can hack into mobile suits.
First Episode
http://www.youtube.com/watch?v=J1RSeKeS-eY
So yeah, I can not wait to see what unfolds in the final 5 episodes.
[SMILE=s16]
By the way if anyone posts any spoilers I will crush you. I am not kidding.